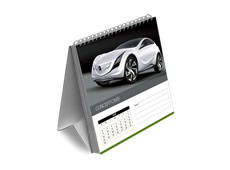 FEATURES:
Lasts for 1 year (12 month)
Ideal customer retention marketing piece
Printed on high quality cardstock
Fast production time
"Early bird" discounts
* Please contact us for more detailed information
Desk calendars are wonderful and useful gifts to your customers in Kelowna. Not only they look nice but they also play an important role in customer retention for your business in Kelowna, as they are always in front of your customer eyes. Make sure to have your company logo and contact information on them so that your customers in Kelowna can easily reach you when they need your products or services. Increase your results even higher by putting exclusive monthly specials on every page of your calendar, so that your Kelowna customer feels special. By printing your desk calendars with Print Factory Kelowna you get outstanding customer service, competitive pricing, fast production time and great print quality. Our Kelowna customers can order as little as 25 calendars per order.
Available calendar paper stocks:
10PT Silk cardstock for flip pages
14PT Silk cardstock for the calendar base
Available calendar options:
Full UV Gloss coating – cover only
Twin-Loop binding
Available calendar sizes:
6.0" x 5.75" with 6.0" x 4.0" flipping page size
9.0" x 4.125" with 9.0" x 4.0" flipping page size
Not sure how to design your Kelowna desk calendar or just simply don't have time – let us do it for you. Our creative and professional design team will do all possible to make sure that your calendars for your Kelowna business look great and outstanding.
If you have any questions about desk calendars or would like to get an estimate for your company in Kelowna, please don't hesitate contacting us. We are always happy to assist you and answer all your questions via phone, email or in person.
OTHER CITIES