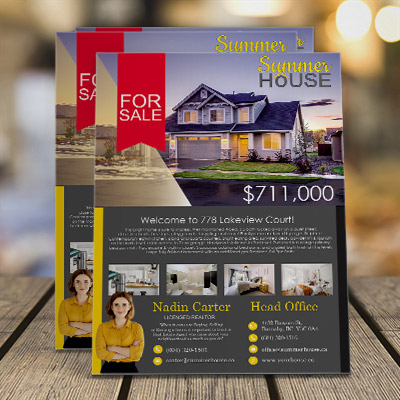 FEATURES:
High quality printing
Fast turnaround time
Low startup quantity
Available on 100% Recycled cardstock
Available with AQ Gloss and Semi - Gloss coating
Available with UV Coating
Available in custom sizes
* This product is available for online ordering
Looking to print your sell sheets for Kelowna and area? Then you are in the right place. Print Factory offers a high quality printing services of sell sheets to its customers in Kelowna. Deliver the right message and impress your customers in Kelowna by printing your sell sheets with us. Our customers in Kelowna can choose to print their sell sheets on our high quality offset or digital presses. Choose to print your sell sheets for Kelowna on our quality paper or cardstocks. The lowest quantity available for our customers in Kelowna to order is 100. The quickest turnaround time for this product is 2 Business Days. Let our designers to create design for your sell sheets to leave a long lasting impression on your customers in Kelowna.
Ask us about available finishing options for this product:
AQ Gloss coating
AQ Semi – Gloss coating
UV coating
Available paper stocks:
100lb. Gloss paper
10PT C2S cardstock
14PT Silk cardstock
16PT Silk cardstock
If you would like to get more information about prices, turnaround times and finishing options for this product in Kelowna or you cannot find what you are looking for on this page, please do not hesitate contacting us or requesting a quote and one of our Inspirational Representative Agents will help you with all your printing needs for Kelowna. We are always happy to help you over the phone, via email or in person.
OTHER CITIES