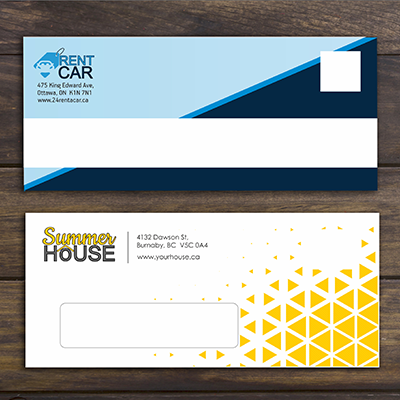 FEATURES:
Available on Linen paper
High quality printing
Fast turnaround time
Full colour printed envelopes
* Please contact us for more detailed information
Envelopes are one of the essential and important printed products for your business in Vancouver. Let the printed envelopes for your company strengthen the brand among your customers in Vancouver. Make sure to have your logo and return address on the printed envelopes when mailing out marketing materials, invoices or correspondence to your customers in Vancouver. For our Vancouver customers we print envelopes on our high quality offset presses.
Available paper:
24lb. Uncoated paper
70lb. Uncoated paper
70lb. Linen paper
Available standard products:
Full colour envelopes
1 or 2 colour envelopes
Envelope sizes:
#8 envelopes (3.625" x 8.625")
#9 envelopes (3.875" x 8.875")
#10 envelopes (4.125" x 9.5")
A2 envelopes (4.375" x 5.75")
A6 envelopes (4.75" x 6.5")
A7 envelopes (5.25" x 7.25")
5.75" x 9.5" envelopes
9.0" x 12.0" envelopes
10.0" x 13.0" envelopes
Let us show you how creative design and quality printing can increase the response rate of your marketing efforts in Vancouver and the area. For more information about envelopes, pricing, turnaround times and how we can help your business in Vancouver, please contact us. We are always happy to assist you via email, on the phone or in person.
OTHER CITIES