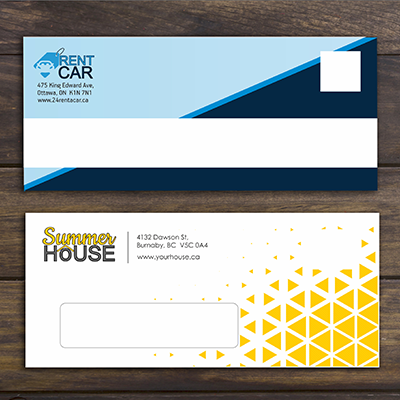 FEATURES:
Available on Linen paper
High quality printing
Fast turnaround time
Full colour printed envelopes
* Please contact us for more detailed information
Whether mailing your marketing pieces, invoices or letters the way your printed envelopes look does matter. Impressive looking envelopes have a higher chance to be opened when you are mailing marketing pieces to your prospects. Make sure to display your logo on the envelopes to identify your business when mailing statements or any other business correspondence to your customers. Print Factory offers to customers 1 or 2 and full colour printed envelopes. All envelopes are printed on our high quality offset presses.
Available standard products:
Full colour envelopes
1 or 2 colour envelopes
Available paper stocks:
24lb. Uncoated paper
70lb. Uncoated paper
70lb. Linen paper
Envelope sizes:
#8 envelopes (3.625" x 8.625")
#9 envelopes (3.875" x 8.875")
#10 envelopes (4.125" x 9.5")
A2 envelopes (4.375" x 5.75")
A6 envelopes (4.75" x 6.5")
A7 envelopes (5.25" x 7.25")
5.75" x 9.5" envelopes
9.0" x 12.0" envelopes
10.0" x 13.0" envelopes
If you have any questions about this product, please let us know. Please contact us for more information about prices and turnaround times. We are happy to assist you over the phone, in person or via email.
OTHER CITIES