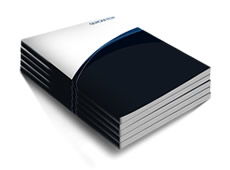 FEATURES:
Ideal marketing item
Perfect for mailing and trade shows
Cost effective
Low quantities available
High quality printing
Fast production time
Available on 100% Recycled paper
* Please contact us for more detailed information
If your business needs high quality catalogue printing services, then Print Factory is your best choice. If your business or company offers a wide variety of products and services then this product will be suited best for your needs. Mail or strategically distribute your company catalogues / manuals to your prospective customers. It is always a good idea for a customer to have an instant access to what your company have to offer. They can browse the catalogue at their convenient time or to keep it for a reference. If you are in the manufacturing business then it may not be bad idea to include your company manuals with the sold product. There are so many ways you can use this product to benefit your company.
Available product sizes:
5.5" x 8.5"
8.5" x 11.0"
Custom size
Available paper stocks:
24lb. Uncoated paper
70lb. Uncoated paper
70lb. 100% Post-consumer recycled paper
100lb. Gloss paper
Available finishing options:
Frost covers
Spiral binding
Twin-Loop binding
Cerlox binding
Tape binding
Perfect binding
Hole drilling
Stapling
If you are struggling to put together the layout for your company catalogue or manual ask our experienced design team to do it for you. Our design team is always ready to go an extra mile to make sure that customer vision is properly reflected in the design of their product.
Let us show you how creative design and quality printing can increase the response rate of your marketing efforts. We are always ready and happy assist you via email, in person or over the phone. For more information how this product can help you and your business succeed please contact us.
OTHER CITIES