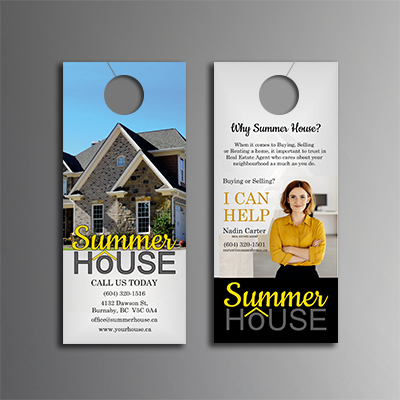 FEATURES:
Low quantity available
High quality printing
Available with Gloss UV coating
Fast turnaround time
* This product is available for online ordering
Door hangers are ideal informative marketing piece. Put enough information about your company, products and services or even specials to increase the response rate on the door hangers. Ideal for business like pizza, restaurants, tourist attractions, taxi cabs, bars and other. Strategically distribute your door hangers to the hotels, motels and B&B to increase your business exposure. When printing your door hangers with Print Factory, you get professional expertise, outstanding customer service and print quality at the affordable prices.
Our design team is ready to come up with the unique and creative design for your next door hangers. Give us a try and you will not be disappointed.
Available paper stocks:
16PT Silk cardstock
14PT Silk cardstock
Product sizes:
3.5" x 8.5"
4.25" x 11.0"
Available finishing options for this product:
Full UV coating 1 side
Full UV coating 2 sides
For more information about prices, turnaround time and available quantities for door hangers, please contact us. Let our passionate and experienced Inspirational Representative Agents help you in making the right decision about this product. We are always happy to assist you via email or over the phone.
OTHER CITIES