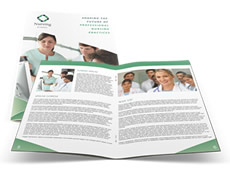 FEATURES:
Ideal marketing item
Cost effective
Low quantities available
High quality printing
Fast production time
Ideal for mailing and trade shows
Available on 100% Recycled paper
* Please contact us for more detailed information
If your company need to print booklets, then Print Factory is the right choice for this task. With our state of art and high quality production equipment we are able to manufacture your booklets fast at a high quality. Be sure that your product will look the best when printing with us. The combination of pages per booklet can be 8,12,16,20,24,28,32,36,40,44,48 and 52. We can produce your booklets on our high quality digital or offset printing equipment. The quickest turnaround time is 2 business days. Booklets are very handy in your office or at the trade show. Print as little as 25 booklets per order.
Available sizes:
5.5" x 8.5" folded
8.5" x 11.0" folded
Custom size
Available stocks:
70lb. Uncoated paper
70lb. 100% Post-consumer recycled paper
100lb. Gloss paper
10PT C2S cardstock for booklet cover
Need to design booklet? No problem. Print Factory design team can design a creative and standing out booklet for you and your business.
Let us show you how creative design and quality printing can increase the response rate of your marketing efforts. For more information how this product can help you and your business succeed, please contact us. We are always happy to assist you via email, over the phone or in person.
OTHER CITIES