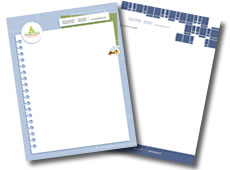 FEATURES:
High quality printing
Fast turnaround time
Low startup quantity
Available on 100% Recycled paper
Available on Linen paper
Available in 1, 2 or full colour
* Please contact us for more detailed information
This product is available for instant pricing.
Letterhead is one of the most important business essentials that any business requires. Send your letters, estimates or invoices using your company letterhead to make it look more official or impressive. Your stationery including letterhead is the first thing that your customers see when they receive a piece of mail from you. At Print Factory we have developed a few products for letterhead to make easier for our customers make right decision. Let our designers to put together a creative and unique letterhead for your company.
Available products:
1 or 2 colour letterhead
Full colour letterhead
Available paper stocks:
70lb Uncoated paper
70lb - 100% Recycled paper
70lb Linen paper
If you have any questions about this product or not sure which of the standard products is right for you, please don't hesitate contacting us. We are always happy to assist you in any of your printing needs on the phone, via email or in person.
OTHER CITIES