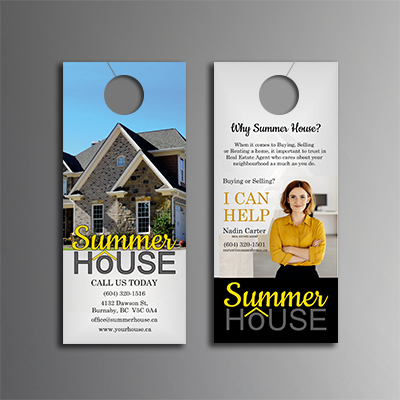 FEATURES:
Low quantity available
High quality printing
Available with Gloss UV coating
Fast turnaround time
* This product is available for online ordering
If you don't know how to attract more customers in Vancouver - try door hangers as your next informative marketing piece. For the local businesses in Vancouver like pizza, bar, winery, restaurant, taxi cab or other tourist attractions, the door hangers are very effective. With proper and strategic distribution of your door hangers to hotels, motels and B&B in Vancouver you will see the increase of response rate. For our Vancouver customers, we print door hangers on our high quality offset or digital presses at their choice.
Ask our creative design team to put an effective door hanger design for your next order in Vancouver.
Available product sizes:
3.5" x 8.5"
4.25" x 11.0"
Available finishing options for this product:
Full UV coating 1 side
Full UV coating 2 sides
Available cardstocks:
14PT Silk cardstock
16PT Silk cardstock
If you would like to get more information about this product or would like to receive our sample pack in Vancouver, please give us a call. We are more than happy to assist you over the phone or via email.
OTHER CITIES