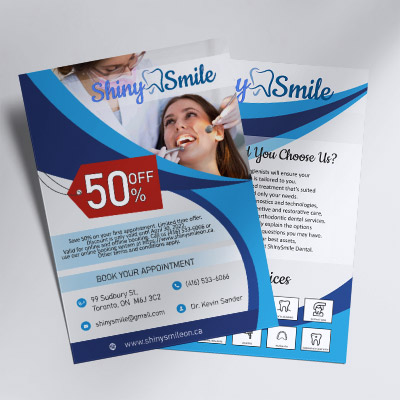 FEATURES:
High quality printing
Low startup quantity
Available on 100% Recycled paper
Available with AQ Gloss and Semi - Gloss coating
Ideal for bulk mailers and targeted campaigns
Ideal for hand outs
Available in custom sizes
* This product is available for online ordering
Are you thinking about the most effective way to spread your message in Calgary? Why not to try flyer printing services that Print Factory offers to customers in Calgary. Use our flyer printing services to let your customers in Calgary know more about you and your business or inform them about upcoming events or discounted products and services that you offer. Deliver your message to your potential customers in Calgary in full without compromises. It is proven – colour works. Use full colour printed flyers to attract and highlight the message to your customers in Calgary. Full colour printed flyers are more likely being viewed than printed in black only. Our Calgary customers can choose to print their flyers on our high quality digital or offset printing equipment. Minimum quantity available for the order is 100. Let our creative and experienced designers to create unique and impressive design for your next printed flyers in Calgary.
Standard products:
Black print flyers
Colour printed flyers
Standard sizes are:
3.66" x 8.5" flyers
4.25" x 5.5" flyers
4.0" x 6.0" flyers
5.5" x 8.5" flyers
7.0" x 8.5" flyers
8.5" x 11.0" flyers
11.0" x 17" flyers
and custom size flyers
Spread your message in Calgary by printing your next order of flyers with Print Factory. Let us show you the power of the creative design and quality print can help you and your business in Calgary succeed in your marketing and advertising efforts. Deliver the right message to your customers in Calgary by sending them properly designed and quality printed marketing pieces. For more information about this product, available quantities, turnaround time and prices, please don't hesitate contacting us. We are always happy to assist you over the phone, email or in person.
OTHER CITIES