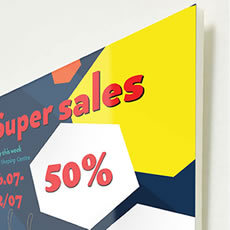 FEATURES:
Lightweight 3/16" (5mm) Foam board
Print as little 1 sign
Ideal for trade shows
Perfect for presentations
Sign quality printing
Fade resistant inks
* This product is available for online ordering
Does your Kamloops business need to display products and services on the trade show? Foam board signs are not only the best way to advertise your Kamloops company at the trade shows but also very handy at the presentations or promotions at your retail business in Kamloops. Printed on 3/16" (5mm) foam board – make them very lightweight which helps with transportation and application for displaying. You can either prop them against the wall or hang them in your office or retail store in Kamloops.
Available material:
Sizes:
36.0" x 24.0" (3 ft. x 2 ft.)
24.0" x 18.0" (2 ft. x 1.5 ft.)
18.0" x 12.0" (1.5 ft. x 1 ft.)
Custom (by custom quote)
Would you like to get the most out of your signs? Let our creative and experienced design team design an outstanding signs for your Kamloops business.
To get more information about the product, finishing options and turnaround times for Kamloops - please contact us. We are more than happy to assist you over the phone or via email.
OTHER CITIES