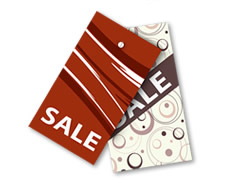 FEATURES:
High quality printing
Low quantities available
Fast production time
Cost effective
* This product is available for online ordering
If you own a retail business in Kamloops, then hang tags are very important items. Your Kamloops customers will refer to hang tags to get more information about the product. Make sure to have your logo and enough information about product on the tags in order to strengthen your brand among your Kamloops customers. Our customers in Kamloops have a choice to print hang tags on 16 PT Cardstock with three coating options to choose from. Currently Print Factory offers 2.0" x 3.5", 1.75" x 3.5" and 1.5" x 3.5" hang tags which are available for online ordering. All hang tags for our customers in Kamloops include hole-drilling option.
Available options:
Hole-drilling 1/8" - included
Available cardstock options:
Available coating:
UV Gloss Front only
UV Gloss Front & Back
Matte AQ Coating
Not sure how to design hang tags? Let our experienced and creative design team put amazing looking hang tags for your Kamloops business.
If you would like to get more information about hang tags, prices, turnaround times and options for Kamloops and area, please don't hesitate contacting us. We are always happy to assist you over the phone, in person or via email.
OTHER CITIES