To pay your order online is secure, safe and easy as 1-2-3!

1. Enter provided reference number into "REFERENCE #" field and click on "Pay Now" button. You will be redirected to the secure PayPal page.
2. Once on PayPal page, please enter provided total amount (including taxes) into "Price per item" field.
Please disregard the "Quantity" field.
Click "Continue" button to proceed with payment.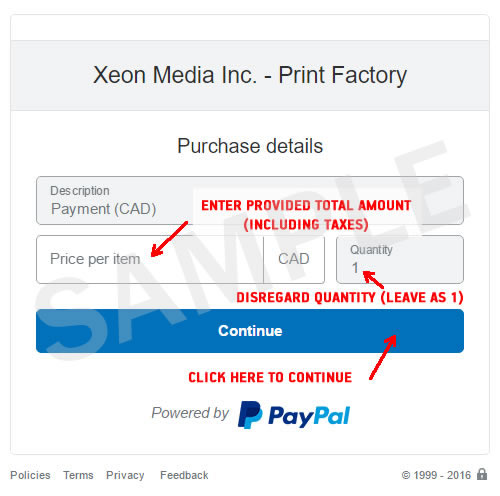 3. Choose the way to pay. If you have PayPal account, you can log in to your account and proceed from there. If you don't have PayPal account, please click on "Pay with Credit Card or Visa Debit" button. You don't need to register for the account. You can simply pay with your credit card (Visa, Master Card or Amex) and PayPal will process your payment. You will need to fill out the required information for the payment and click on "Pay Now" button.